This device is virtually a segment of a perfect Hollow retroreflector, and therefore operates as an invariant.
In applications where the LTHR is vibrated, the exiting beam remains static and maintains perfect parallelism with the entrance beam. The beam deviation can be supplied to sub arc second accuracy. The LTHR provides an excellent solution for a "U" fold in a large Michelson interferometer, or in a back-to-back Retroreflector configuration for folding interferometers. The LTHR is also useful when the flat mirror is made as a 50/50 beamsplitter. This configuration enables the user to observe the view ahead while simultaneously viewing another parallel optical axis. In addition, the LTHR is extremely temperature stable because all component parts have the same coefficient of thermal expansion (CTE).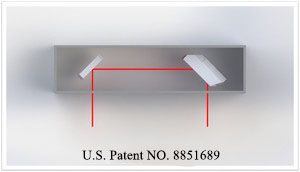 For applications where the major beam must be aligned with two or more other optical axes, see PLX Specification Sheet for "Rotary Movement Devices".
Related Articles:
PLX Hollow Optics For Critical Alignment
Important:
When requesting a quote or placing an order, please specify your required offset. The offset is the distance from the center of one clear aperture to the other. All catalog LTHRs are custom made units to your requested offset specification.
Specification Chart
L-10
1.0/25
λ/10 - λ/2
1.0 - 30.0
L-20
2.0/51
λ/10 - λ/2
1.0 - 30.0
Download our product datasheet