| | | | |
| --- | --- | --- | --- |
| Weight | Heaviest | Lightest | Light |
| Overall Size | Large | Smallest | Small |
| Apex Location Control | Fair | Excellent | Excellent |
| Vacuum Compatible | Not Standard | Excellent | Excellent |
| Mounting Stiffness | Fair | Good | Excellent |
| Mechanical Stability | Excellent | Excellent | Excellent |
| Thermal Stability | Good | Very Good | Excellent |
| Vibration | Good | Very Good | Excellent |
| Shock Resistance | Excellent | Very Good | Excellent |
| Protective Housing | Yes  | No | No |
| Metrology | Excellent | Excellent | Excellent |
| OEM Use | Fair | Excellent | Excellent |
| Motion Control | Good | Excellent | Excellent |
| OEM Interferometry | Good | Excellent | Excellent |
| OEM Spectroscopy | Good | Excellent | Excellent |
| Laboratory | Excellent | Good | Good |
| Industrial | Excellent | Good | Good |
Omni Wave Hollow Retroreflector™ (OWHR)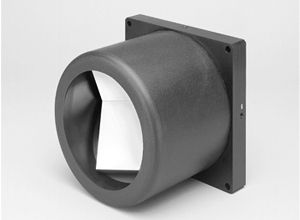 The Omni Wave line of the Hollow Retroreflector was designed for easy handling in a laboratory environment where the Retroreflector needs to be protected from the elements. The Retroreflector is typically mounted in a housing with specially matched cushion providing excellent shock resistance. The base of the Omni Wave is versatile and compatible with all major mounting systems, laboratory tools and setups. As an option, a front window can be installed to keep the optics clean or for application where hermetic sealing is required. An additional available option includes vacuum compatibility that will meet NASA outgassing specification.
Hard-Mount Retroreflector™ (HMHR)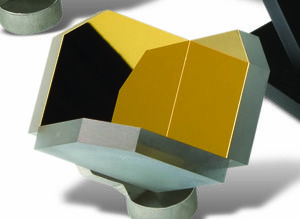 The HM line was designed for applications where the unit is mounted inside an instrument, protected by the instrument enclosure, together with the rest of the instrument's components. The Hard-Mount Retroreflector is significantly lighter than the Omni Wave (1:5). Therefore it is widely used in applications where the Retroreflector is translating along its optical axis. Typical applications include instruments like Spectrometers, Interferometers, motion control systems and range finders. Also, an available option includes vacuum compatibility for space applications.
Improved Ultra Stable Hard-Mounted Retroreflectors (USHM)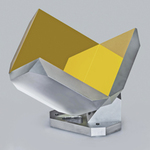 The implementation by PLX of a robust Invar mount design adds an extra measure of stability and durability to our USHMs.
The use of Invar, in combination with our new-patented configuration, makes the new USHMs suitable for applications where instruments are exposed to changes in temperature and harsh environments. The design approach incorporated in the improved USHM has been utilized in critical military and space applications.