Extensive in-house production and quality control.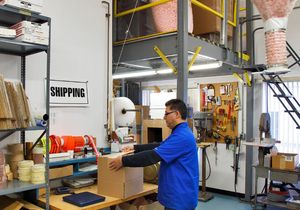 PLX's Quality Assurance Department has at its disposal ZYGO Interferometers, a visible spectrometer, an FTIR spectrometer monochromator, a CMM machine, a laser profile scanner, a selection of optical cameras, durometers, a shock tester, computerized temperature chambers, a humidity chamber, and measurement tools required by ISO
Our production facilities include a complete fabrication shop utilizing CNC machine glass fabrication technology, four Blanchard machines, a 36" grinder table, four surface grinders, a variety of diamond cutting tools, and a 3D printer. Our complete optical shop can produce optics with better than λ/20 flatness using 26 grinding and polishing spindles, two planetary polishing machines, a double-sided grinder and polisher. All our grinding machines include micro separators enhancing surface finish and machine longevity. We also have a Class 100 clean room area for our line of Monolithic assemblies and a modeling/tools machine shop for in-house requirements. 
Our valued and experienced employees go through extensive on-site training and evaluation. Without them, our sophisticated high-tech computerized production systems and in-process approach to quality control would not reach the level needed to produce the most accurate and stable optical products in the industry.
For more information please visit our contact us page