The PLX Tool Cube is designed for setting up optical axes or intuitive alignment of equipment and instruments at right angles to each other or parallel to each other.
It consists of three front surface mirrors that have been accurately assembled by a proprietary process into a mutually orthogonal inside corner. The deviation from a perfect 90° angle between any two mirrors is less than 1 arc-second.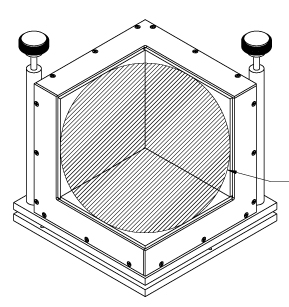 The PLX Tool Cube is mounted in a housing that includes two adjustment knobs for leveling/aligning the tool cube.
It is available in two sizes, either 3 inch mirror faces or 5 inch mirror faces. Standard coating for the mirrors is a protected aluminum, customized coatings are also available.
The Tool Cube is typically used with two or more lasers or autocollimators to establish orthogonal axes.