PLX Hollow Penta Mirror and Penta Roof Assemblies.
The Hollow Penta Roof Assembly is a constant deviation device developed by PLX to duplicate, with advantages, the performance of a penta prism. Unlike a solid prism that is limited in transmission through glass, the new device utilizes front surface reflectance, and thus is unlimited in wavelength transmission. By modifying the coating, polarization of the exiting beam can be precisely controlled. The device enables incoming parallel light to be deviated at 90° with great accuracy. Like the solid prism, the assembly is an invariant, and thus permits movements such as rotation without compromising either the basic 90° deviation or its inherent accuracy.
PLX Hollow Penta Roof assemblies are available in two configurations:
TYPE A ("PM" unit) is a combination of two flat mirrors mounted at 45°. In an imaging system the unit will produce an unchanged image of an object.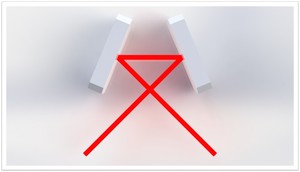 TYPE B ("PR" unit) is a combination of a roof mirror assembly and a flat mirror, mounted at 45°. In an imaging system, the unit turns the image at 90°, and a mirror image is displayed.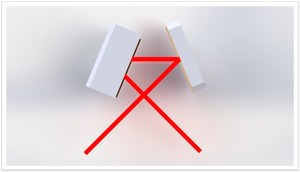 The optical elements of the hollow penta roof assemblies are monolithic structures made of fine annealed borosilicate glass. They are mounted in an aluminum enclosure, with a black anodized finish. Type A and Type B are each available in 1/2", 1" and 2" clear aperture, with accuracies to better than 1 arc sec.
Specification Chart
PM-05
0.5/13
1.0 - 30.0
0.15 - 1.00
227
PR-05
0.5/13
1.0 - 30.0
0.20 - 1.00
340
PM-10
1.0/25
1.0 - 30.0
0.25 - 1.20
568
PR-10
1.0/25
1.0 - 30.0
0.30 - 1.20
681
PM-20
2.0/51
1.0 - 30.0
0.30 - 2.00
1498
PR-20
2.0/51
1.0 - 30.0
0.35 - 2.00
1589