PLX BMR™ series are the industry standard for highest performance. These new Hydrophobic Ball Mounted Hollow Retroreflectors (HydroBMRTM) are designed for durability and to repel liquids utilizing PLX's proprietary hydrophobic coating. The easy maintenance you want, with the optical quality you need.
See video of the exciting hydrophobic coating in action: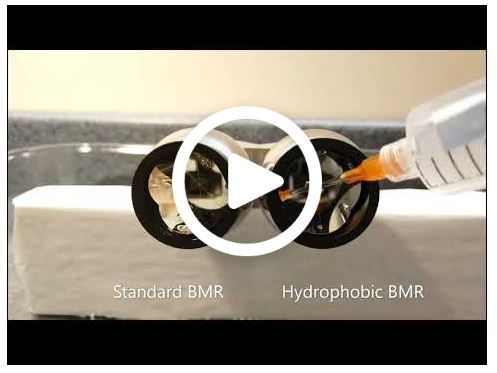 PLX BMRs enable the longest tracking range due to their superior optical accuracy. Available in 2 centering accuracy options: within .0005" and within .0001".
They are manufactured in three different diameters: 1 1/2", 7/8" and 1/2". Should the optical elements of your BMR ever become damaged, PLX can replace them with units of comparable accuracy and alignment to the original at a modest cost. 
Backed by PLX's history of superior quality BMRs.
Ball Material: Stainless Steel with sphericity of 0.00005".
Retroreflector Apex: positioned within either .0005" or .0001" of the center of the ball as specified.
Retroreflector Mirror Coating: Hydrophobic Protected Silver.