The ACT-25FO Autocollimator is a high-accuracy measurement instrument capable of resolution down to fractions of an arc-second.

It features a built-in laser for coarse alignment, a base with bubble level and leveling adjustments and focusing adjustment. Because of its high-quality CCD detectors high sensitivity, even very faint back reflections will be captured and displayed.
When the ACT-25FO is used as an autocollimator the unit has a 25-minute horizontal measurement range. In alignment telescope mode, the field of view is 50 minutes horizontally. The PLX ACT-25FO autocollimator has a 0.01 arc-second resolution and a focusing range from 17.5 cm to infinity.
A unique feature of the ACT-25FO is that it comes with a built-in motorized focusing knob, controlled via the software package which is supplied with each unit. This allows focusing on objects along the optical axis of the Autocollimator with LOS deviations smaller than 2.5 seconds. Using the software, you can go to infinity focus and use the system in conventional autocollimator mode. 
The ACT-25FO is designed as a complete system and is practically ready to use right out of the box.
The software suite automatically displays angle deviation and can give the relative position of multiple targets. Accessories for the ACT-25FO include Hollow Retroreflectors, Lateral Transfer Hollow Retroreflectors (LTHRTM), Lateral Transfer Hollow Periscopes (LTHPTM), and Tool CubeTM. Applications: For machinery alignment, the Autocollimator / Telescope can be used for checking the accuracy of machine slides. Optical testing: The electronic autocollimator can be used for testing various optical components. Some measurements may require the use of supplemental optics. Additionally, the PLX ACT-25FO Autocollimator is valuable for Boresighting applications.
Our Autofocusing Autocollimator is characterized by its capability to focus along its propagation axis at different distances via a motorized system which is controlled by a software specially adapted and activated through a PC. The following applications are common:
Optical Testing
1. Testing of camera objective
Place a mirror or other reflective surface into the image plane of the objective. By changing the focusing distance of the Autocollimator, you can check your lens' focus ring position compared with actual distance. 

2. Testing distance of reflective surfaces (such as silicon wafers)
3. Radius Measurement of Concave & Convex Spherical Surfaces
4. Measurement of the Back Focal of Lenses and Optical Systems
LED & LD focusing 
1. Adjustment of LD position to represent a certain illumination distance.
Using our Autofocusing Electronic Autocollimator, one can adjust a Laser Diode collimated system to project its beam to a certain distance. In order to do that, you adjust the Autocollimator using its built-in motor to be focused to the required distance.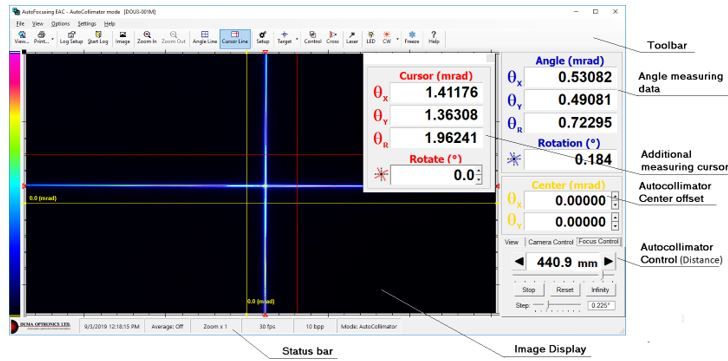 2. Adjustment of a laser diode to best collimating position
3. Calculating beam divergence by a dedicated software addition
Software
The software automatically displays angle deviation and can give the relative position of multiple targets.
Data logging is supported and can be configured to record for a predetermined time or a fixed number of data points. The recording interval can also be set. The data can be saved to a file or streamed to a remote location via RS-232 or TCP/IP. The communication setting for both RS-232 and TCP/IP is fully configurable from the software.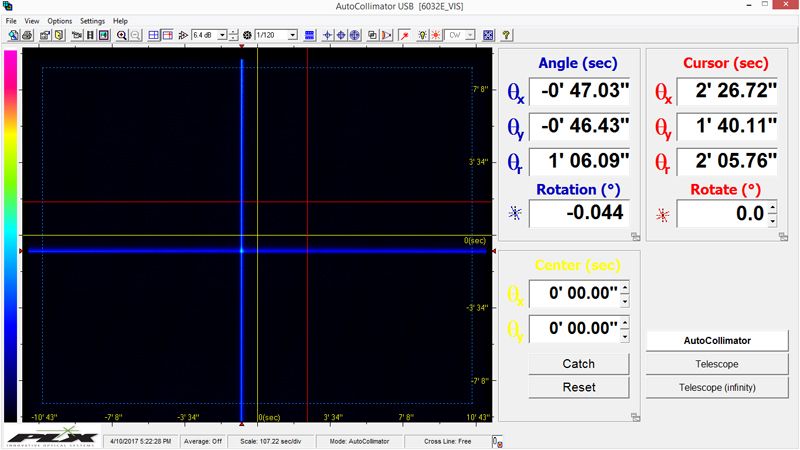 Specification
Value
3D Models
& Diagrams
Gain Control
4x
Click Here
Shutter Speed
9 μsec to 16 msec
FoV Autocollimator
±25' (H) x ±20' (V)
FoV Telescope
±50' (H) x ±40' (V)

Clear Aperture

36 mm
Resolution
0.01 sec
Accuracy
1.0 sec
Camera (Wide Spectral Range)
1.3 Mega Pixels, 10 bit
Light Source

LED- 650, optional: 1060.

Retroreflector for alignment
⌀64 mm, N.W 280 g
Thread ⌀16 mm, < 5"
Line of Sight Retention as Function of Focusing
better than +/- 2.5 seconds
Min. Focusing Distance
Less than 17.5 cm
Built in coarse aiming Laser Pointer
638 nm power <1.0 mW
Class 2 laser product, IEC60825-1
Synchronization
•Software
•Hardware (external trigger signal)
Interface
USB 3.0
Exposure Control
Programmable via GUI
Housing Size (L x W x H) in mm
250 x 140 x 190
Power Requirements
~3.5 Watt (Via USB 3.0 interface)
Weight (typical)
3.2 kg including cable
Metrology System for Inter-Alignment of Lasers, Telescopes, and Mechanical Datum: Poster Presentation at OPTIFAB.
Advances in sensor technology have opened the door to new measuring instruments, initiating the development of the new PLX, ACT-25 and ACT-HR Electronic Autocollimator and Alignment Telescope Systems.
The technology is based on autocollimation principles combining laser beam collimation and direction measurement, accurate telescopic measurement, focusing techniques with sophisticated software and computing techniques. Of special interest is the laser analyzing autocollimator since it combines laser-analyzing technology with angular reflection technology.
PLX's "Metrology System for Inter-Alignment of Lasers, Telescopes, and Mechanical Datum" abstract / manuscript accepted at SPIE for inclusion in their Library of Technical Papers.
In modern scientific and industrial laser applications, inter-alignment of multiple optical devices is frequently a basic requirement to meet a certain specification and performance.
However, the designed optical system combining mechanical elements, lasers and optical sights in various wavelengths frequently deviates from specified